helo,to all members here got a party event for music station,whoever intrested we can join 2gether.Especially like hardtrance music & shuffle



anyway,we oso can goin it for fun and enjoy the music entertainment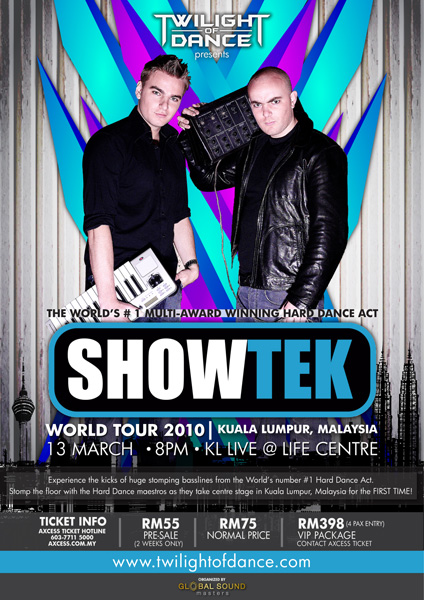 Saturday, March 13, 2010 at 8:00pm - 3:00am
From the Producer of Music Conference Asia (M.C. ASIA), Global Sound Masters brings you yet another highly anticipated event of the year - Showtek World Tour 2010!
With stunning live shows, devastating DJ sets and above all, massive production hits, Showtek on stage is an experience that will not easily forgotten and no matter where they play, they will blow the roof off. Stomp the floor with the Hard Dance maestros as they take centre stage in Kuala Lumpur, Malaysia for the FIRST TIME!
Opening act by the BASS AGENTS.
Ticket Info:
Axcess tickets Hotline
03 7711 5000
http://www.axcess.com.my
Presale (ends on March 9, 10)
RM55.00
Normal price
RM75.00
VIP package
RM398 (4 pax entry + btl voucher)
For full event information, please log on to
http://www.twilightofdance.com/





Last edited by Sky Toro on Thu Feb 25, 2010 12:20 am; edited 2 times in total